LECTURES & PRESENTATIONS
My portfolio of illustrated public lectures and presentations includes:
NEW for 2018
HUMOR IN MUSIC :)
What makes us laugh? What makes us smile?
Jokes, anecdotes, videos, comedians, slapstick, cartoons … but music? In truth, the history of music is full of 'musical jokes' - some of which only 'professional' musicians 'get', but there is also an abundance of aural humor that even 'non-musicians' can enjoy :) More ...
Also available:
'They Say It's Your Birthday'- Sgt. Pepper's Lonely Hearts Club Band is 50 years old! More ...


Brothers and Sisters in Music: Righteous, Everly, Isley...Pointer, Staple, Jones - were they really siblings? More ...


Christmas Music Quiz - A game-show of audio, visual and verbal yuletide questions, tests and assignments that will challenge your knowledge of the Sounds of the Season :) More ...


Allan Jones: from the Dark Coal-mine to the Silver Screen More ...


From Ragtime through Jazz to Rock & Roll More ...


'Hello, Goodbye': The Beatles's Last Public Performance More ...


John Curwen: The Man Who Taught the World to Sing More ...


The Beatles and Their Songs: A Musical Revolution More ...


A Child's Christmas in Wales (Dylan Thomas presentation & reading) More ...


Downton Abbey: The Music & the Era More ...


Joseph Parry: His Life & Music More ...

REFERENCES, REVIEWS & RECOMMENDATIONS
CALENDAR
2018 Presentations
"A Child's Christmas in Wales," NOVA Center for the Performing Arts, Billings, MT, Sunday, December 9th, 6PM
2017 Presentations
"Brothers and Sisters in Music," Calvary Presbyterian Church, San Francisco, CA, Tuesday, February 21st, Event Completed
"They Say Its Your Birthday: Sgt. Pepper's Lonely Hearts Club Band is 50 years old!" Hercules Library, Hercules, CA, Saturday, April 29th, 2PM
"They Say Its Your Birthday: Sgt. Pepper's Lonely Hearts Club Band is 50 years old!" Commonwealth Club, San Francisco, CA, Saturday, June 1st, Noon
"They Say Its Your Birthday: Sgt. Pepper's Lonely Hearts Club Band is 50 years old!" Lafayette Library & Learning Center, Lafayette, CA, Saturday, June 1st, 6:30PM
"Joseph Parry: Danville's Most Famous 19th Century Musician," Mahoning Presbyterian Church, Danville, PA, Saturday, July 15th, 1PM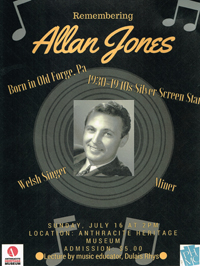 "Allan Jones: From the Dark Coal Mine to the Silver Screen," Pennsylvania Anthracite Heritage Museum, Scranton, PA, Sunday, July 16th, 2PM
"They Say Its Your Birthday: Sgt. Pepper's Lonely Hearts Club Band is 50 years old!" Merced Library, San Francisco, CA, Sunday, August 9th, 7PM
"They Say Its Your Birthday: Sgt. Pepper's Lonely Hearts Club Band is 50 years old!" Livermore Public Library, Livermore, CA, Sunday, August 27th, 2PM
"They Say Its Your Birthday: Sgt. Pepper's Lonely Hearts Club Band is 50 years old!" Albany Library, CA, Saturday, September 23rd, 2PM
"They Say Its Your Birthday: Sgt. Pepper's Lonely Hearts Club Band is 50 years old!" Vacaville Town Square Public Library, Vacaville, CA, Saturday, September 30th, 2PM
"They Say Its Your Birthday: Sgt. Pepper's Lonely Hearts Club Band is 50 years old!" Martinez Library, CA, Tuesday, October 10th, 6:30PM, Cancelled
"They Say Its Your Birthday: Sgt. Pepper's Lonely Hearts Club Band is 50 years old!" Centenial Hills Library, Las Vegas, NV, Saturday, December 2nd, 2PM
"Christmas Music Quiz" Windmill Library, Las Vegas, NV, Sunday, December 3rd, 2PM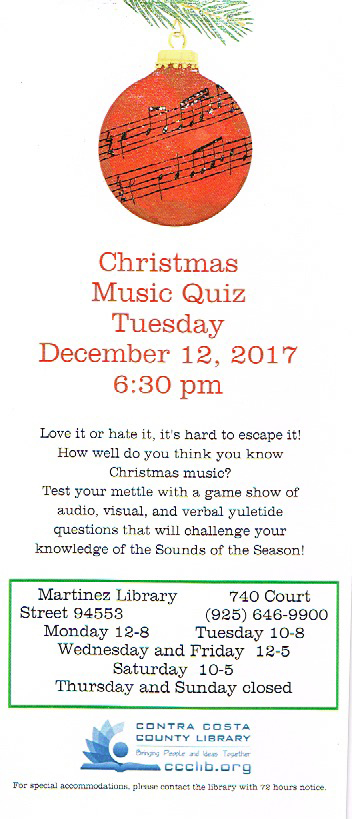 "Christmas Music Quiz" Martinez Library, Martinez, CA, Tuesday, December 12th, 6:30PM
Previous Presentations Below
REFERENCES, REVIEWS & RECOMMENDATIONS
If you would like a critique and/or publicity material of my presentation, the named persons below have given their permission to be contacted:
• 2017: Las Vegas-Clark County Library District, NV (December) Kristen Kennedy-Larsen; Vacaville Public Library, CA (September) Delilah Wilson; Pennsylvania Anthrcite Heritage Museum & Scranton Iron Furnaces, PA (July) Bode J. Morin; Hercules Library, CA (April) Michelle Krasowski

• 2016: Lafayette Library & Learning Center, CA (December) Chris Gray; Memphis Central Library, TN (June) Maria DeBacco; Lafayette County & Oxford Public Library, MS (June) Corey Vinson;

• 2015: Los Altos Public Library, CA (July) Cynthia Wilson; Mechanics Institute, San Francisco, CA (March) Taryn Edwards

• 2014: Stockton Public Library, CA (May) Bill Walker and/or Dennis Tucker; San Mateo Pubic Library, CA (March) Addie Spanbock

• 2013: Livermore Public Library, CA (December) Paul Sevilla
'It was engaging and informative. ... All general comments were positive and people were happy you were able to give the talk.'
Bode M., Historic Site Administrator, Pennsylvania Anthracite Heritage Museum and Scranton Iron Furnaces, Pennsylvania Historical and Museum Commission, "Allan Jones: From the Dark Coal Mine to the Silver Screen," July 16, 2017
'Thank you for another delightful & informative presentation! The community loved it, and I hope to have you back at Lafayette in the future...'
Chris G., Lafayette Library & Learning Center, CA, "A Child's Christmas in Wales, December 15, 2016
'It was a pleasure to hear about the life of Allan Jones, a tenor of Welsh descent who had a colourful career on American stage and screen. Many episodes were supported by extracts from recordings and films making it an evening of entertainment as well as a lecture. Dr Rhys' own musical brilliance informed the research about this talented tenor, giving us an insight into Jones' life and the entertainment business of the 1930s and 40s.'
Sian R., audience member, "Allan Jones: O Ddyfnderau'r Pwll Glo...," Aberdare, Wales September 22, 2016
'[Dr. Rhys] managed to condense superbly into an hour the fascinating life of a somewhat forgotten star of 20th Century American radio, film and television. The amount of detail conveyed reflected a thorough research and knowledge of the subject. Yet the style of delivery was relaxing, and excellently interspersed with carefully chosen sound and film extracts. ... [Allan Jones's] fascinating career in Hollywood was superbly brought alive through Dr. Rhys blending of details of the individual with discussion of the context, including amusing anecdotes on the role of the movie moguls and rivalry between the stars.'
John L., audience member, "Allan Jones: O Ddyfnderau'r Pwll Glo...," Aberdare, Wales September 22, 2016
'I had the privilege of attending a lecture given by Dr Dulais Rhys, on the life of Allan Jones, the outstanding tenor of Welsh descent, born in Old Forge, Pennsylvania, who became a legend in the world of opera, musicals, and musical films, in America. ...Not surprisingly, Dr. Dulais Rhys's research into the life and achievements of Allan Jones was incredibly thorough and revealing...attributable to Dulais's brilliant delivery, supported by...extracts from both soundtracks and film that portrayed the remarkable singing and acting talent of Allan [Jones]. I would unhesitatingly delight in attending Dulais's outstanding lecture again.'
Geraint P., [Head of Education at the National Museum of Wales (Retired)], audience member, "Allan Jones: From the Dark Coal-Mine...," Aberdare, Wales September 21, 2016
'Thank you for such a wonderful presentation...our community fully enjoyed themselves! I think your style is unique in that you weave many cultural threads into your lecture, yet you keep it light and fun and have a gift for eliciting audience participation.'
Chris. G.: Adult & Teen Services Librarian, Danville Library, Contra Costa County Library, June 25, 2015
'Your lecture was great. I really enjoyed your exposing the musical structure of their songs, as did very many in the audience. That is, by the way, the largest Noontime lecture I've ever seen during the summer at the Club. And they were all so happy they'd come.'
George H.: Chair of Humanities Program, The Commonwealth Club, San Francisco, August 19, 2014 (a recording of the lecture is available via its website)
'Are you ready for these numbers??41 adults and 4 children attended the Beatles program tonight. We heard lots of positive feedback from those who attended. A few are going to attend the program again on Saturday at Agave. We left the door open so staff and the customers could enjoy the music. We heard one person at the computer singing along quietly. It was such a great program. I am still smiling.'
Sabrena A.: Librarian, Yucca Library, Phoenix AZ, September 11, 2014 (to Kathy H. – see below)
'I'm writing to thank the library for sponsoring "The Beatles A Musical Revolution" presentation. I attended the presentation at the Desert Broom library yesterday morning. Dr. Rhys was a fabulous speaker. He was very knowledgeable and also very passionate about the subject. I found the presentation very interesting. Please pass along my thanks to Dr. Rhys and thank you also to the library for sponsoring the presentation.'
Al K.: lecture audience member, Desert Broom Library, Phoenix AZ, September 13, 2014 (to Kathy H. – see below)
'The Library is very, very pleased with the high audience turnout, quality of your program and the very positive reaction from our customers. Thank you again for a job well done!'
Kathy H., Adult Services C oordinator and lecture tour organizer, Phoenix Public Library, September 16, 2014
'I really enjoyed your lecture, especially that you concentrated on the musical forms n structures of their writing. Man...I'm right with you on all that. … It's great to meet a fellow Beatle student...I stopped talking so I wouldn't answer all your quiz questions correctly.'
John J.: lecture audience member, Rainbow Library, Las Vegas NV, December 6, 2014
'It was a pleasure to have had you speak last night. You are a terrific presenter and I enjoyed your program, not only because of the content, but because of the audience participation. ... I would definitely want to schedule you on our 2016 calendar....'
Susan M.: Executive Director, Walnut Creek Library Foundation, CA, December 11, 2015
'Dulais Rhys' recent lecture on the Beatles was extraordinary. The enthusiasm of the audience was palpable for weeks before the lecture actually took place and in the minutes before the event one could hear guests happily humming Beatles tunes in anticipation. Dr. Rhys' humorous discussion of Beatles musicology was happily interspersed with short and long samples of the music itself to the audience's delight. The collective singing, toe tapping, and dancing in the aisles made the program as a whole memorable. One often forgets how music – when heard and enjoyed in public – can enhance mood, energize, lower inhibitions, and encourage bonding. Our audience certainly had a great time and Dr.Rhys' presentation encouraged their understanding of the how and why of the Beatles phenomenon.'
Taryn E.: Member Relations and Marketing Specialist, Mechanics' Institute, March 5, 2015
'Thank you so much for the delightful program you presented last night at the Merced Branch Library on The Beatles and Their Songs. The audience members loved it!'
Elizabeth T.: Manager, Merced Branch Library, June 24, 2015
'That was an excellent presentation and I have indeed heard some great feedback, with suggestions that we have more like it.'
Corey V., Reference Librarian, Lafayette County & Oxford Public Library, Oxford, MS, June 25, 2016
'Wow! I learned a lot. ...What I appreciated about the lecture was that the presentattion let the music speak for itself. What I mean is that the presentation was simple but packed with information. Also, Dulais is quite charming.'
Margo W.: lecture audience member, Benjamin L. Hooks Central Library, Memphis, TN, June 26, 2016
Previous Lectures
2016
Lafayette Library, CA (A Child's Christmas in Wales, Dylan Thomas)
Danville Library, CA (The Beatles & Their Songs, a Musical Revolution)
Livermore Public Library, CA ('Hello, Goodbye' - The Beatles Last Public Performance, August 29th, 1966, Candlestick Park, San Francisco)

Newspaper Review by Local Journalist:
Looking Back on the Beatles' Last Concert,
Carol Graham's article in The Independent, Livermore
Walnut Creek Library, CA ('Hello, Goodbye' - The Beatles Last Public Performance, August 29th, 1966, Candlestick Park, San Francisco)
Aberdare, Wales ('Allan Jones: From the Dark Coal Mine to the Silver Screen', Aberdare Rugby Club)
Aberdâr, Cymru ('Allan Jones: O ddyfnderau'r Pwll Glo i uchelfannau'r Sgrin Fawr', Clwb Rygbi Aberdâr)
Gilroy Public Library, CA (Downton Abbey: the Music & the Era)
Phoenix Public Libraries, AZ (5 branches) (From Ragtime through Jazz to Rock & Roll)
Lafayette County & Oxford Public Library, MS (It Was 50 Years Ago Today that...The Beatles Played in Memphis, August 19th, 1966)
Memphis Central Library, TN (The Beatles & Their Songs, a Musical Revolution)
2015
Phoenix Public Libraries, AZ (5 branches)
Mechanics' Institute, San Francisco
Park Branch Library, San Francisco
Danville Public Library, CA
Merced Branch Library, San Francisco
Anza Branch Library, San Francisco
Hudson Park Library, New York City
Los Altos Public Library, CA
Fremont Public Library, CA
Livermore Public Library, CA
Pleasanton Public Library, CA
Calvary Presbyterian Church, San Francisco, CA
Menlo Park Public Library, CA
Walnut Creek Public Library, CA
San Mateo Public Library, CA
Mechanics Institute, San Francisco, CA
2014
Calvary Presbyterian Church, San Francisco
The Commonwealth Club, San Francisco
Las Vegas Public Library (2 branches)
Merced Library, San Francisco
Pennsylvania State University, Altoona, PA
Phoenix Public Library, AZ (7 branches)
Pleasanton Public Library, CA
Stockton Public Library, CA
2013
Burlingame Public Library, CA
Fremont Public Library, CA
Livermore Public Library, CA
San Mateo Public Library, CA